A week or two ago I got an email asking if I was interesting in trying cacao tea. Although I'm not a tea drinker, I am always curious about anything chocolatey, so found a method more my style to check it out! This recipe makes roughly twice as much cacao tea jello as you'll need, so you'll have some more for sampling.
Ingredients:
3 3/4 cups boiling water, divided
6 ounce box strawberry jello
2 tablespoons sour cream
2 tablespoons cacao tea grounds
1/2 cup cold water
3 packages unflavored gelatin
1/2 cup chocolate chips, or more as desired
mint leaves
To start off, you'll need a Piggy Pop mold for the pigs, which is something I had just been given/was eager to use.
To 1 1/4 cups of the boiling water, add the box of strawberry jello and stir well until fully dissolved. Let cool, then stir in the sour cream, which helps make them a bit opaque and isn't enough to impact the taste.
Pour into the pig mold and refrigerate overnight.
The next day, bring 2 1/2 cups of the remaining water to a boil. Place the 2 tablespoons of tea into a tea strainer or, as I had, empty tea bags. Put your tea strainer/bags into the boiling water, cover, and turn off the heat but leave the pot on the warm burner. Steep for 10 minutes.
Meanwhile, in a small dish, combine the cold water and three packets of gelatin, stir together, and let sit 5 minutes.
Remove the tea strainer/bag from the hot water, and if necessary, bring back to a near-boil. Remove from the heat and stir in the gelatin mixture. Let cool to room temperature.
Gently remove the jello pigs from the mold, pushing from the top – I found they popped out quite easily even from an ungreased mold.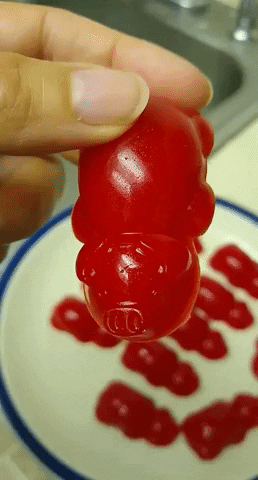 Place as many pigs as you'd like into an empty 9″ springform pan. Pour enough of the cacao tea gelatin in to act as a cozy mud bath for your pigs. Refrigerate until set, several hours.
Meanwhile, line a small pan with parchment or wax paper. Melt the chocolate chips by microwaving in short bursts. Place in a piping bag or ziplock with the corner cut off, using a flat tip if you have one. Pipe even length lines, evenly spaced, for fence posts, then cross them perpendicularly to connect your fence. Make several short sections, as you'll be putting straight fences into a round pan. Refrigerate to set the chocolate.
Once all the gelatin is set, remove the side from the pan. Gently peel the chocolate fences from the parchment and stab the bottom of each section into the gelatin around the outside, to create a fence. Holding the mint leaves in a tight bunch, cut thinly either with a knife or kitchen shears. Sprinkle the cut mint as desired to create patches of 'grass'. Slice, and enjoy your wigglepigs!